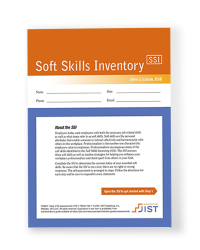 Regardless of industry or occupation, skills like communication, problem solving, and teamwork are increasingly in-demand in today's world of work. With the Soft Skills Inventory, you can quickly help job seekers and learners identify which soft skills they need to improve to succeed in their work lives.
 
This print inventory is sold in packages of 25. A free administrator's guide includes guidance for how to administer the inventory and interpret its results.
Learn more about the inventory  |  Request a sample
Order Summary
$65.95
ISBN: 9781792431937
Print assessment
*If you are tax exempt, please call our Customer Solutions team at (800) 228-0810 to order.