About the Inventory
Author: John J. Liptak, EdD, and Laurence Shakin, PhD
© 2011
The Transferable Skills Scale (TSS) is a brief inventory designed to identify an individual's strongest transferable skills.
Based on the data, people, things, and ideas model used extensively by career counselors and the U.S. Department of Labor, the TSS asks individuals to rate their skill levels on 96 tasks. The resulting score helps define their skill levels in eight skill categories:
Analytical
Numerical
Interpersonal
Organizational
Physical
Informational
Communicative
Creative
Order Now
|
Request a Sample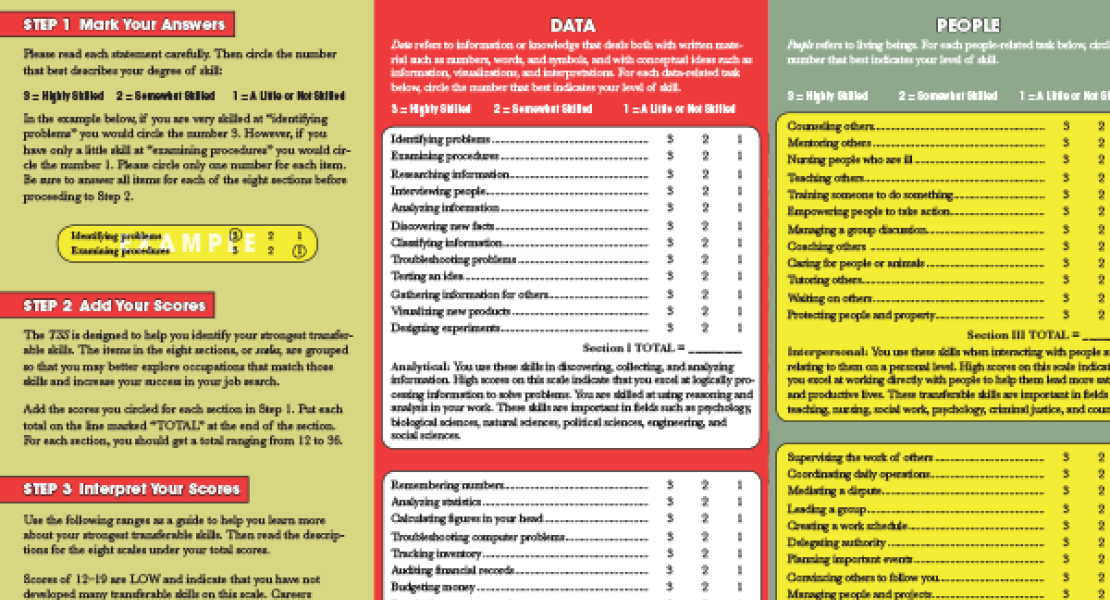 Key Features and Benefits
Links skill sets to O*NET job titles.
Provides an occupational exploration worksheet to help individuals further research the jobs that match their transferable skills.
Can be given to groups or individuals.
Available in print or online.
Includes a free Administrator's Guide.
Efficacy
In a survey of 1,107 individuals who completed this inventory online:
83% felt more informed about the transferable skills they possessed.
83% said they felt more informed about which occupations may help them make the most of their transferable skills.
91% said the inventory was easy to complete.
Administer the Inventory in Print or Online
Select the format that works best for your clients' or students' needs. The print version is ideal for in-person meetings and workshops and can be a helpful reference tool during one-on-one discussions.
The online version offers automated scoring and allows individuals to complete the inventory at home at their convenience. Results are immediately saved and provided to administrators. This option is ideal for serving or advising individuals who are unable to meet face-to-face.