About the Assessment
Author: John J. Liptak, EdD
5th Edition | © 2019
Barriers to Employment Success Inventory (BESI) gives individuals a quick and easy way to identify the hurdles and obstacles that stand in the way of job success. Though it takes only 20 to 30 minutes to complete, this powerful inventory not only helps people conduct a more effective job search, it helps them be more successful on the job as well.
Test takers rate 50 simple statements covering five categories:
Personal and Financial
Emotional and Physical
Career Decision-Making and Planning
Job-Seeking Knowledge
Education and Training
After users have identified their barriers, BESI suggests ways to overcome them and helps individuals develop an employment success plan that can be used in groups or individual career counseling meetings.
Order now
|
Request a sample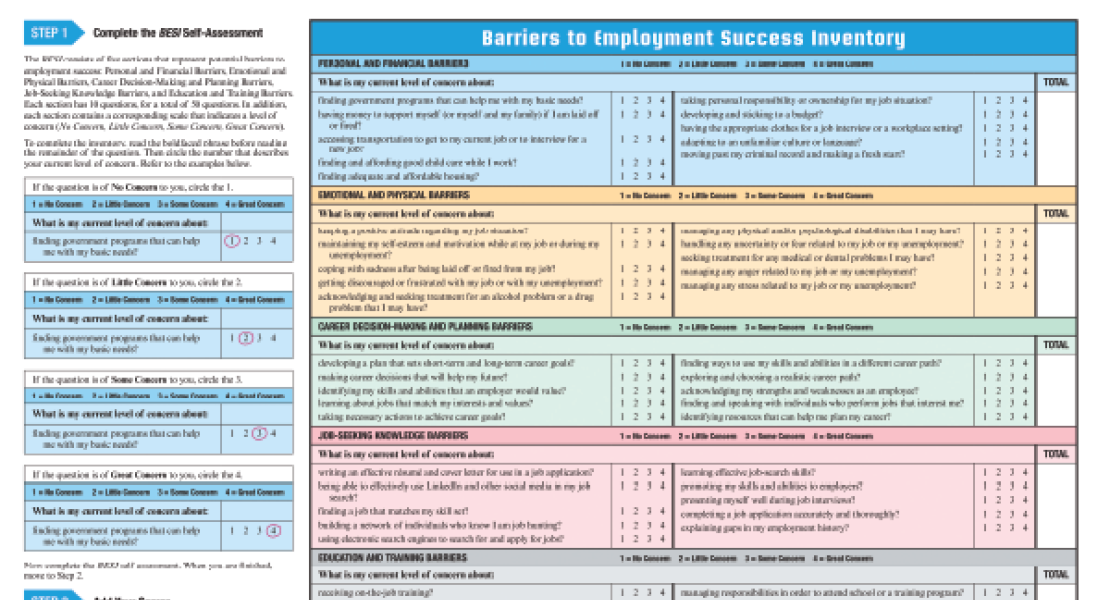 Key Features and Benefits
Provides a standardized approach for career counselors or educators to use in helping individuals identify, understand, and find solutions to the barriers that are preventing them from successful employment. Can be given to groups or individuals.
Available in print or online.
Includes a free Administrator's Guide.
In a survey of 1,287 individuals who completed this assessment online:
85% felt more informed about barriers that may keep them from advancing their career.
85% said they had more insight into ways to overcome their employment barriers to achieve career success.
85% said the assessment was easy to complete.
Administer the Assessment in Print or Online
Select the format that works best for your needs.
The print version is ideal for in-person meetings and workshops and can be a helpful reference tool during one-on-one discussions.
The online version offers automated scoring and allows individuals to complete the assessment in the comfort of their home and at their convenience. Results are immediately saved and provided to administrators. This option is ideal for serving or advising individuals who are unable to meet face-to-face.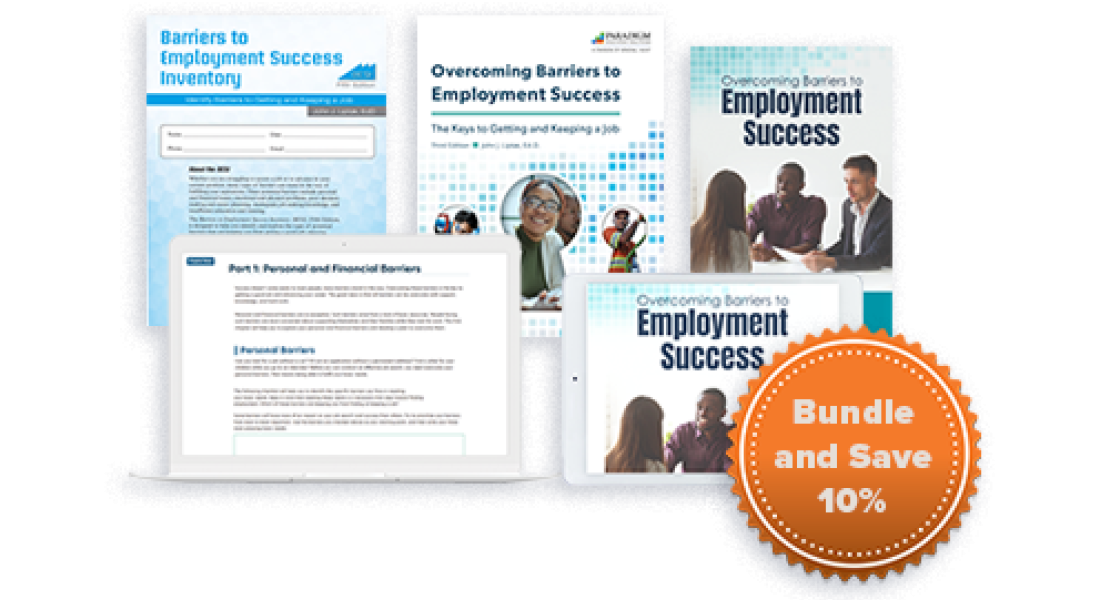 A Complete Learning Suite
Created to provide a comprehensive learning experience, the Overcoming Barriers suite of tools works seamlessly together to maximize learner outcomes.
PLUS, receive a 10% discount when you purchase two or more products from this series.
Connect with your Regional Paradigm Team to learn more.