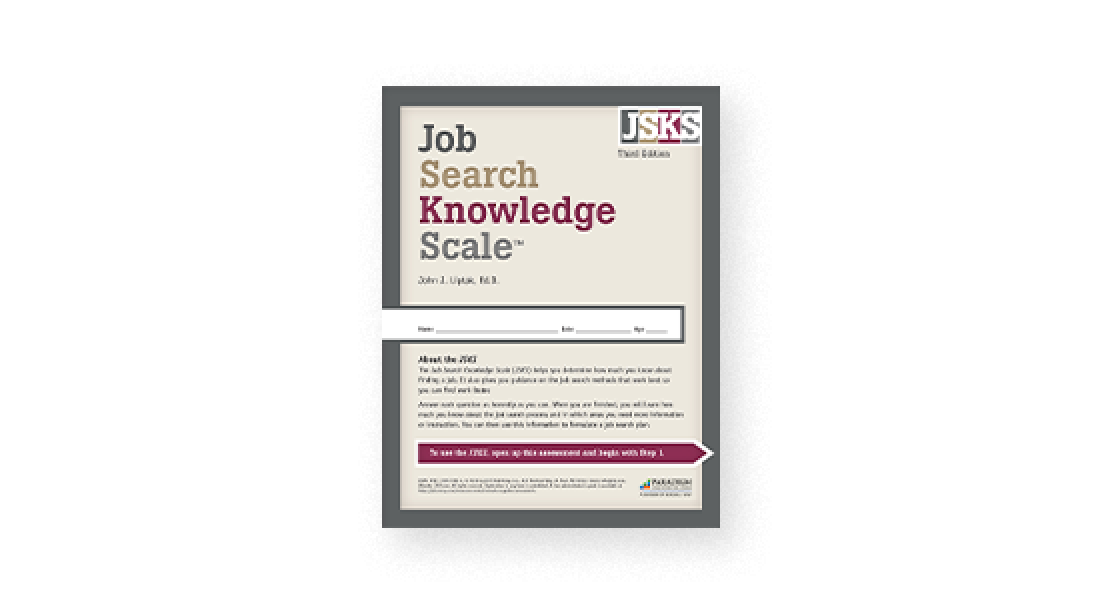 About the Assessment
Author: John J. Liptak, EdD
© 2015
The Job Search Knowledge Scale (JSKS) helps determine how much an individual knows about looking for work. Test takers respond to 60 true/false statements to discover the job search skills they need to develop to find work faster.
The JSKS assesses an individual's knowledge in five areas:
Identifying job leads
Applying directly to employers
Writing resumes and cover letters
Interviewing
Following up
The JSKS offers guidance on the job search methods that work best and provides journaling space to establish job search goals. The assessment saves time and resources by helping people focus on key areas of the job search as needed to land a job more quickly.
Order now
|
Request a sample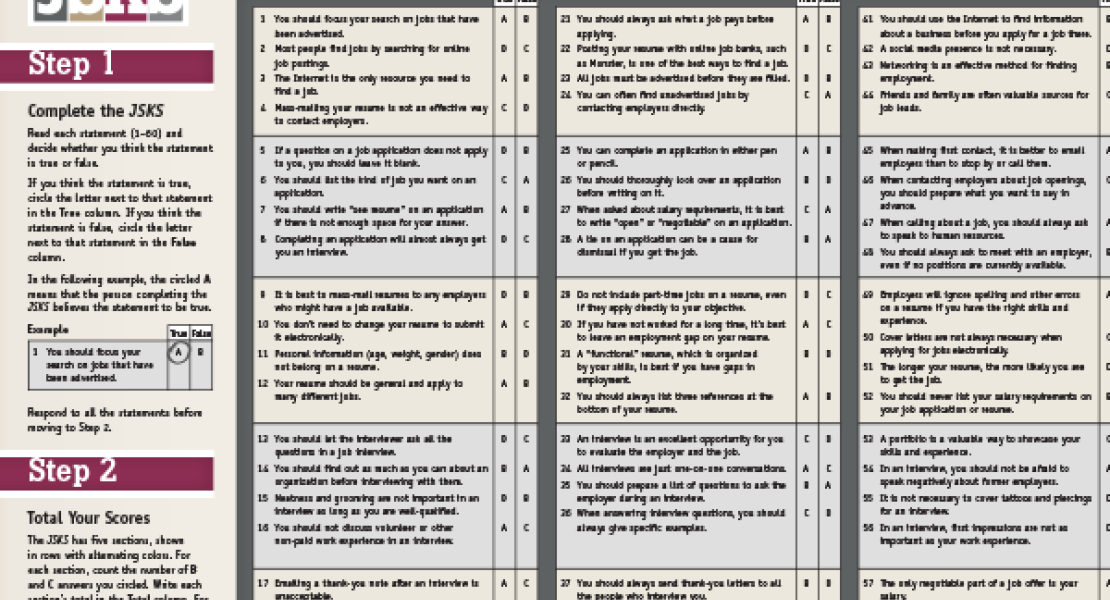 Key Features and Benefits
Works well as an intake assessment and as a pre-test and post-test for educators, workforce development professionals, and counselors who need to prove their results and effectiveness.
Serves as an ideal complement to most of JIST's job search books, workbooks, and videos.
Allows counselors and other professionals to match individual needs with specific job search training.
Available in print or online.
Includes a free Administrator's Guide.
Efficacy
In a survey of 1,287 individuals who completed this assessment online:
91% felt more informed about how to be successful in the job search.
92% said the assessment was easy to complete.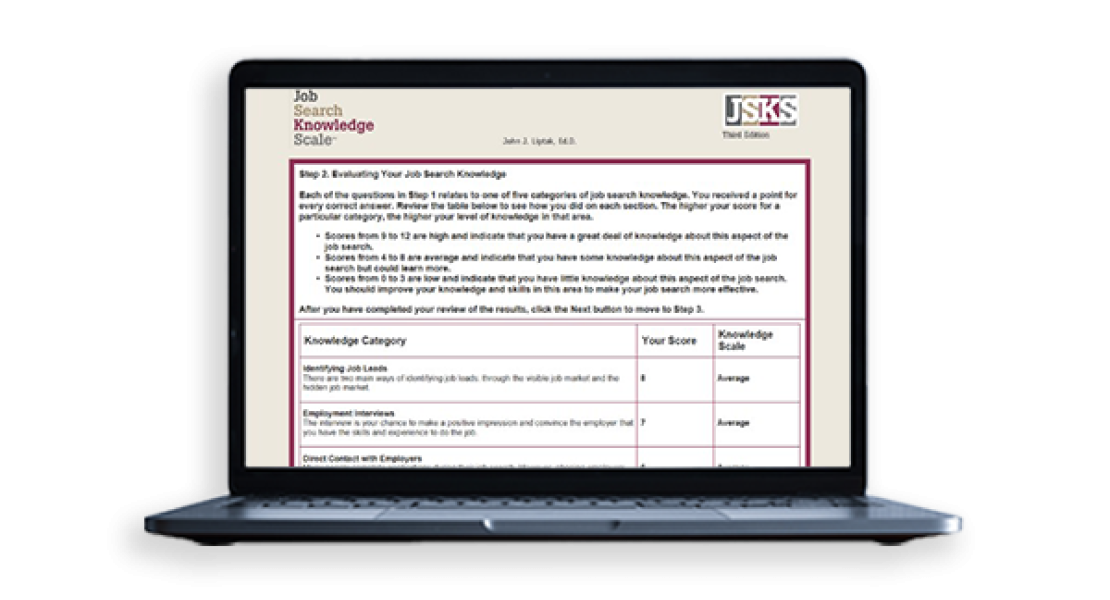 Administer the Assessment in Print or Online
Select the format that works best for your clients' or students' needs. The print version is ideal for in-person meetings and workshops and can be a helpful reference tool during one-on-one discussions.
The online version offers automated scoring and allows individuals to complete the assessment at home at their convenience. Results are immediately saved and provided to administrators. This option is ideal for serving or advising individuals who are unable to meet face-to-face.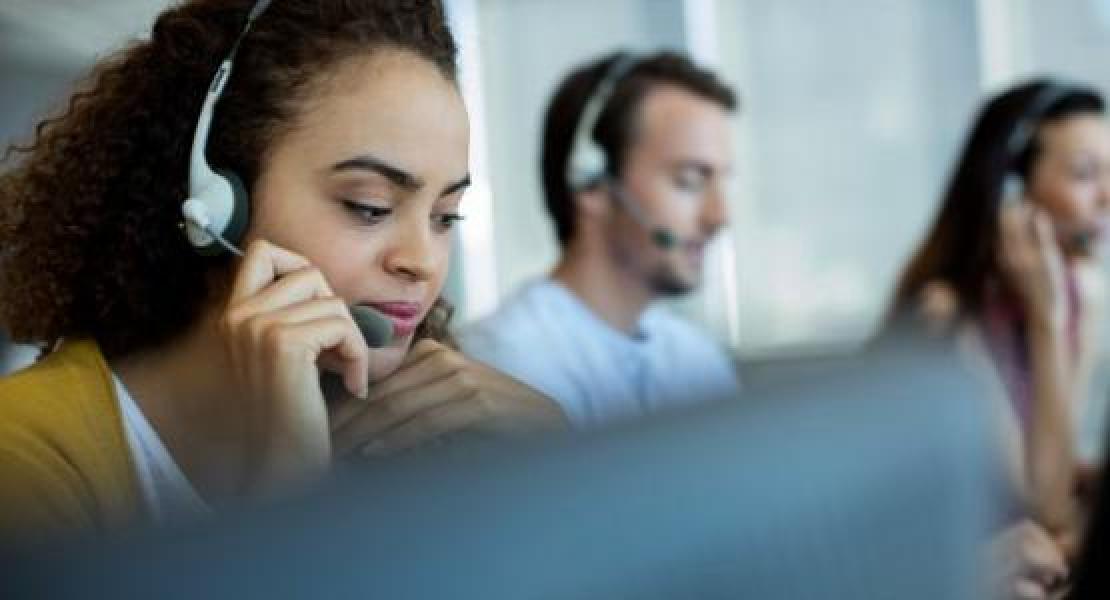 Request a sample or quote
Interested in using this inventory in your program or curriculum? Connect with your regional Paradigm contact for more information.