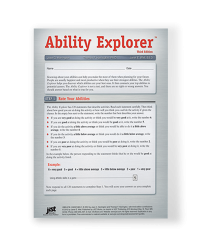 The Ability Explorer ranks an individual's strengths in 12 abilities that are important in today's workplace. In less than 30 minutes, individuals will learn their strongest abilities, plus which careers align with their abilities.
This print inventory is sold in packages of 25. A free User's Guide helps individuals understand the purpose of the Ability Explorer and how to use its results in career development. A free Professional Manual provides guidance for using the inventory with a career portfolio, as a tool for writing resumes and cover letters, in practice interviews, and more.
 
Learn more about the inventory  |  Request a sample
Order Summary
$72.95
ISBN: 9781593578831
Print Inventory
*If you are tax exempt, please call our Customer Solutions team at (800) 228-0810 to order.