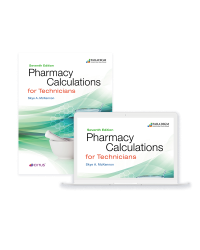 With Pharmacy Calculations for Technicians, students learn the essential mathematics concepts and skills pharmacy technicians use on the job. Clear, complete examples and practice problems provide students with the required skills for calculating and preparing drug doses in both community and institutional pharmacy settings. Students are guided, step-by- step, through several calculation methods, including basic formula, ratio and proportion, dimensional analysis, and alligation. Learn more. 
Interested in adopting or purchasing this courseware?
 
Instructors, please contact your Paradigm Regional Team.
Students, please visit your institution's bookstore or contact your instructor for information about your institution's microsite.