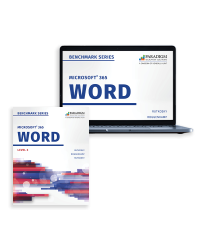 Benchmark Series: Microsoft Word 365 Level 3 is powered by Paradigm's Cirrus™ 2.0 platform, which provides a complete solution for learning how to use the Word application. Cirrus develops skills and knowledge through a learning pathway that includes a series of training, practice, and assessment activities. Learn more.

Interested in purchasing this courseware?
 
Instructors, please contact your Paradigm account manager.
Students, please visit your institution's bookstore or contact your instructor for information about your institution's microsite.