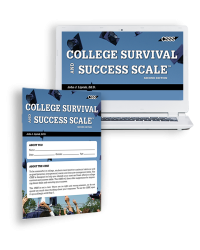 College Survival and Success Scale
Author(s): JOHN J LIPTAK
Edition: 2
Copyright: 2011
The print assessment is sold in packages of 25. The online assessment includes 25 assessment attempts. To learn more about this assessment, click here.
Order Summary
ISBN: 9781633322318
JIST Gateway access code, digitally delivered | 365 days
*If you are tax exempt, please call our Customer Solutions team at (800) 228-0810 to order.