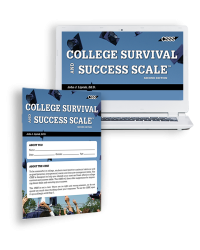 College Survival and Success Scale
Author(s): JOHN J LIPTAK
Edition: 2
Copyright: 2011
The College Survival and Success Scale measures a student's ability to get the most from post-secondary education and training and use their experience to build a successful future. In addition, the inventory helps students identify potential pitfalls to their educational success and implement strategies to overcome them.
The print inventory is sold in packages of 25 and the online inventory includes 25 attempts. A free Administrator's Guide explains how to administer the inventory and interpret its results. An additional resource, Tips for Using the College Survival and Success Scale in the College Classroom, provides discussion prompts and group activities to support educators administering the inventory.
 
Learn more about the inventory  |  Request a sample
Order Summary
ISBN: 9781633322318
JIST Gateway access code, digitally delivered | 365 days
*If you are tax exempt, please call our Customer Solutions team at (800) 228-0810 to order.