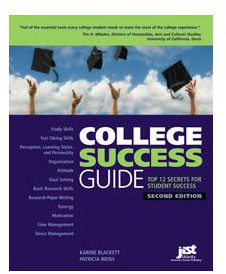 College Success Guide is designed to walk college students through steps that are proven to make them successful in college and life.
The guide reveals 12 keys that make students successful in college, and helps students be better prepared for college and know how to protect their significant investment.
This edition includes:
More content - including games and activities - on learning styles and personality testing.
New activities teaching students how to find answers at their new university or college.
More content on study skill ideas, including chunking and the murder methods.
More information on finding scholarships, the importance of getting financial aid paperwork in on time, and where to get help for daycare and travel expenses.
Additional wellness content regarding eating the right foods to reduce stress.
Expanded APA material and new sample reference pages for APA, covering the new sixth edition of APA style.
Extensive updates to the library research chapter.
Material on how to avoid plagiarism.
Sample self-talk affirmations for each chapter.
 
Access complimentary instructor's resources at JIST.com.
Order Summary
$31.00
ISBN: 9781593578534
Text
*If you are tax exempt, please call our Customer Solutions team at (800) 228-0810 to order.