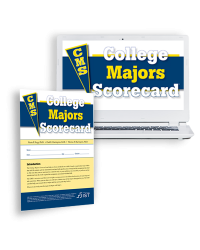 Using this inventory, you can help current and potential college students identify one or two college majors that match most closely with their abilities, knowledge, and expectations. They'll also gain insight into how those majors relate to fields of employment.
The print inventory is sold in packages of 25 and the online inventory includes 25 attempts. A free Administrator's Guide explains how to administer the inventory and interpret its results.
Learn more about the inventory  |  Request a sample
Order Summary
$80.00
ISBN: 9781633322295
JIST Gateway access code, digitally delivered | 365 days
*If you are tax exempt, please call our Customer Solutions team at (800) 228-0810 to order.